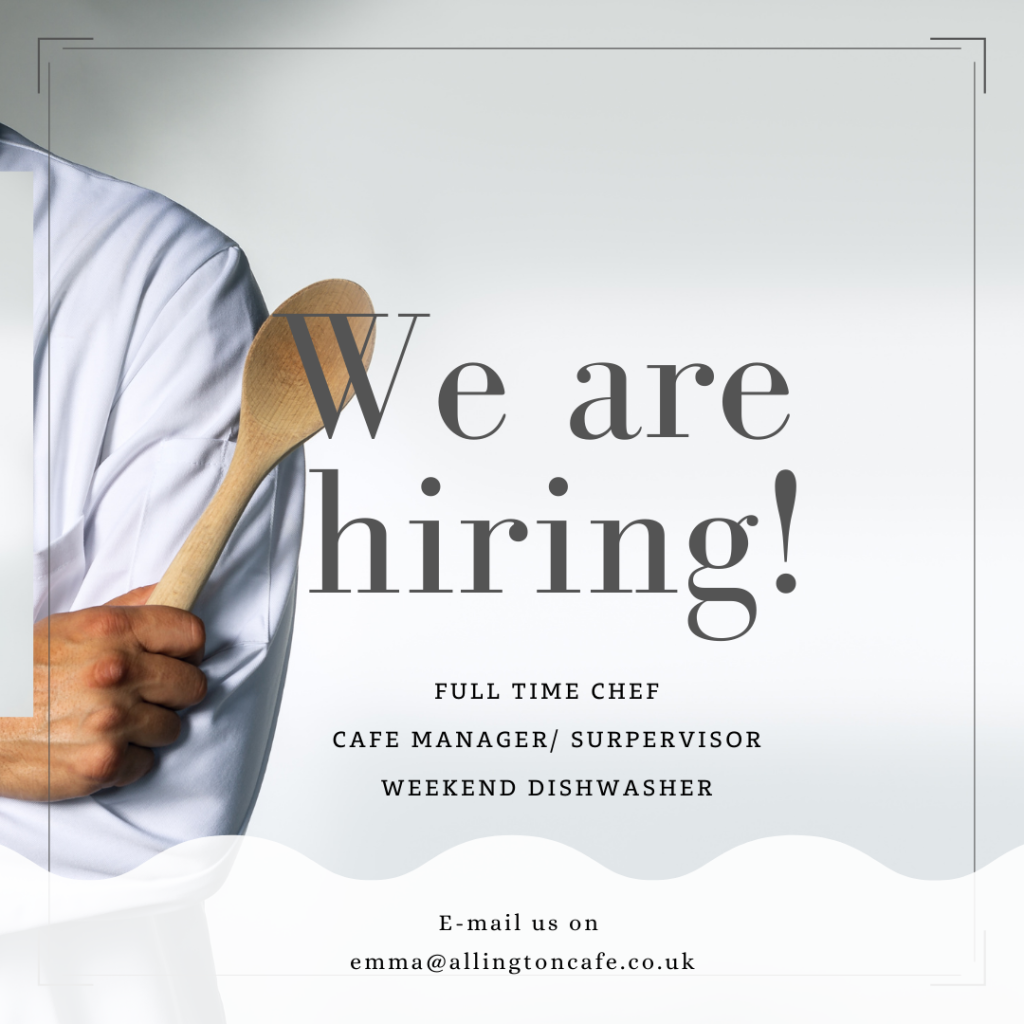 At the moment we are looking to fill the following positions:
CHEF
We are looking for a full time chef for our busy cafe/ restaurant. We are a "farm to fork" establishment and we would like to work with someone who understands and shares our values. This is a super opportunity to join a hardworking and successful team. The ideal candidate will be passionate about the industry, will be able to work under pressure in a very fast pace environment and must be a team player.
We offer a consistent schedule, no evening shifts, competitive salary (depending on experience) and a great team environment for a dedicated employee.
Duties include:
– Preparing, cooking and presenting dishes within your area
– Ensuring you and your team have high standards of food hygiene and follow the rules of health and safety
– Communicate clearly, professionally and work collaboratively with others in pursuit of team goals
– Work quickly and accurately during busy periods
– Check freshness of ingredients and rotate stock
– Keep kitchen area tidy and organised
Expected start date: Immediate
CAFE MANAGER/ SUPERVISOR

We are looking to hire an experienced Café Manager with a pro-active mindset to oversee the day-to-day operations of our café. If you are a people's person with strong hospitality background, business savvy with a passion for local food and great customer service and would like to work in a thriving social hub, we would like to hear from you
Responsibilities:
· Managing day-to-day operations of the café
· Motivate our team to provide excellent customer service and advise them how to resolve issues and keep customers happy
· Commitment to on-going training, pro-active management style, can do attitude
· Order café supplies, monitor and maintain stock levels
· Ensure all cafe areas are clean and tidy, all the food health & safety regulations are adhered to
· Nurture friendly relationships with customers
Requirements:
· Proven work experience as a Cafe restaurant Manager and Barista with a passion and taste for coffee
· Hands-on experience with professional coffee machines
· Hours of work Thursday – Monday with 2 days off together.
· Effective communication skills with the ability to manage and motivate a team
· Sound knowledge of food health and safety regulations
· Strong business acumen
· Excellent organizational and time management skills
· Exceptional customer service skills
Expected start date: JANUARY 2022
WEEKEND DISHWASHER
We are looking for a Dishwasher/ Kitchen Porter to fill a shift every other Saturday /Sunday.
We are a fast paced cafe and you will have to be quick and ready to multi-task.
Duties include:
– operate industrial dishwasher (training given)
– clean and polish glassware and cutlery
– assist the kitchen team with their washing up
– keep the dishwasher area tidy
– End of day clean up.
Job Type: Part-time
Expected start date: January 2022
We are always on a look out for:
Front of house assistants/ Baristas – Our FOH team is the face of our business and we are looking for individuals, who are passionate about good service, appreciate quality food and outstanding coffee and bring a good vibe to our always busy cafe. For full time positions you will ideally have experience in the industry and you will be barista trained, however full training is given to every new employee.
Chefs & kitchen assistants – we are about honest, freshly cooked food from our farm to the customer's plate. Consistency is key and we are looking for chefs who can share the same enthusiasm as us for great tasting food, sharp service and a new twist here and there. No evenings!
Kitchen porter – this really is the cog in the wheel. We regard this role as a crucial one in our business and we are looking for high standard, organisation and efficiency.
Pastry chef – we cover our pastry section with full-time and part-time chefs, including trainee chefs fresh out of college. Experience and genuine passion for the job is essential. we highly value creativity and attention to detail. Hours are 7.30 – 3.00
Weekend team member – we offer weekends only positions with set hours for every weekend. In return we are looking for commitment, interest in the industry and being able to thrive in a busy environment.
The perks of the job:
a hospitality job with sociable hours
high standard of training
uniform
free lunch
free parking
paid lunch break & good rate of pay
structured work week
10% off in the cafe & the farm shop
joining a family business
For up to date recruitment news follow our social media channels or simply give us a nudge. If you are interested in joining our team at Allington Cafe, please e-mail us on emma@allingtoncafe.co.uk